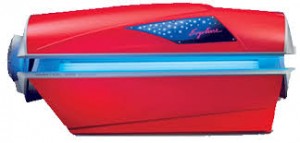 Our tanning salon includes 3 Ergoline Ambition 250 beds.  We use the original Genesis VHP 15 lamps and facials and change them out on regular intervals before they lose their performance.
We also have an Ergoline Sunrise 480 Stand up with 48 200 watt lamps.  Remember your mp3 player or smart phone as you may amp into the surround sound system and set the mood while you tan.
We offer a full line of bottled and sample size lotions as well.  With bronzers, moisterizers and tingle lotions there are many update options to choose from.
Come get your tan on and DisKonnect with us.